A TRADITIONAL GUEST HOUSE MANSION : FOUR STAR HOTEL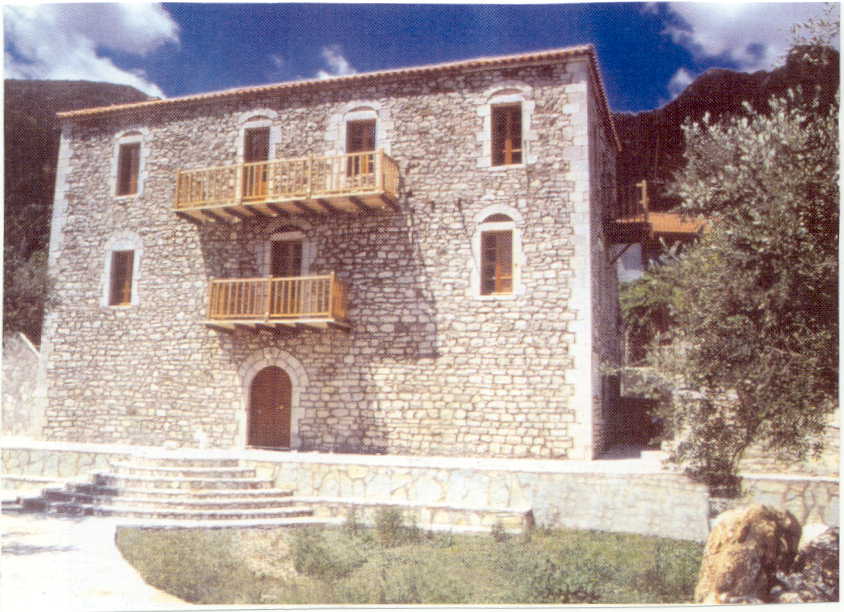 Our hospitality welcomes you to our traditional guest house, offering your family and friends tranquil accommodation in Dimitra village resort in the county of Gortinia in Pelloponissos, Greece.
The village of Dimitra gets its name from the ancient sanctuary of Elefsinia or else Alousia Dimitra, the ruins of which are visible on one of the peaks of the Aphrodisia mountains (10 min. by car).
The mansion was the house of the Oikonomopoulos family which settled in the region in the middle of the 19th century and the name ®Theoni's House® expresses its identity. The house was rebuilt in the traditional way, by the good will of Mrs Christodoularis, the grand daughter of Theoni.
Theoniís House is a 3 floored stonebuilt house made originally in 1850, and overlooks the gorge of Ladonas. The place were the river Ladon used to run, now gives hydroelectrical power to a great part of Pelloponissos. The visitor can walk around extraordinary landscape of wild beauty through small roads and valleys and discover caves and stalactites, monastries, old churces rooted into rocks. Also basic canoeing and kayaking is available in the Lake of Ladonas.
Come along for celebrations, relaxation, or conferences in the highlands of Pelloponisos.
| | |
| --- | --- |
| | |
| Bedroom with three beds and en suite WC | Chapel of Zo-odohos Pigi |
Contact Mrs. Christodoularis on:
Telephone: 00301 (0)8842400 or 003097 3028265